The History of As Darkness Dies
Starting in 2011, As Darkness Dies stormed the CT metal scene with the band's first self-produced album, The Future Started Yesterday.  The band's debut dominated the Number One spot on the CT Reverb Nation Charts for over 18 months and reached 16th in the Nation!  Signing to Pure Steel Records in 2015, led to a second album release for the band.  This self-titled album has been met with incredible reviews across the globe that is still rolling in nearly a year later.  In June of 2016, As Darkness Dies took the top spot on the Pure Steel Records sales charts as the Number 1 selling album!!
Over the years, A.D.D. forged their path, performing in the US and abroad with legendary acts such as Anthrax, Testament, Death Angel, Queensryche, Fates Warning, Halcyon Way, Overkill, Prong and Obsession.  June of 2016 brought the opportunity to be  support for Ted Nugent at the first annual Laconia Fest and they shared that stage with Steven Tyler, Buckcherry, Saving Abel, Fuel, Bret Michaels, Sebastian Bach to name a few.
Together, the band blazed a trail of progressive metal that has its own unique style and continue to carve out their own spot in the history books of music.
From 'Graven Image' to 'As Darkness Dies', these amazing players have been integral to the success of the band!
We wish our former members well in their future, whether it be in music, or wherever their chosen paths take them.
Martin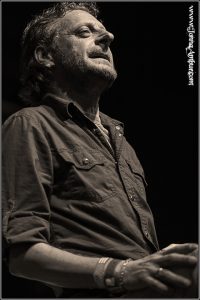 Grew up in Ireland and played in various bands along the way before coming to the States where he was the frontman for Beyond Reality, Weapon-X and a short stint with Sixth House. He's also been involved in session work along the way along side legendary producer Buck Brundage (RIP) and Grammy award winning engineer Phil Magnotti. Martin has been compared to vocalists such as Bruce Dickenson, Rob Halford and a host of others, but has defined his own style of singing by pulling key elements from all his influences.
Past Projects include:  Weapon X and Beyond Reality.
Main Gear: Shure 55 and Samson Q7 microphones.
Scott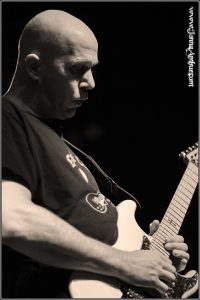 Scott Williams spent most of his childhood sequestered in solitude, learning to play guitar. While he's still struggling to master the instrument, he has been the beneficiary of the charitable kindness of a few friends and allowed play with As Darkness Dies.  He likes iced tea and appreciates the importance of gag orders.
Past Projects include:  Agrippa 93, Echelon, Threshold and Mass Havoc.
Main Gear: Marshall Amplification with Eminence Speakers and a Line 6 POD HD500X Effects pedalboard. A pair of customized Fender Strats and a customized Ibanez for recording.
Harry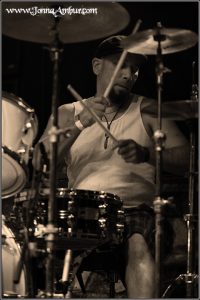 Harry Blackwell, son of jazz drummer, Ed Blackwell, started his education in 1977 with help from his father.  1984 to Present self taught studies include Cuban, Brazilian, African, American jazz and Celtic.  Harry is also self taught in music theory, piano and guitar.
Past Projects Include: Steel Prophet, Echelon, New Orleans Jazz and Heritage Festival. Drum Clinic AZ Estrella Mountain University, Zydego, Fighting Gollareny Brothers FGB.
Main Gear: Tama drums, Paiste cymbals, Vic Firth Buddy Rich signature sticks