As Darkness Dies is:
Vocals/  J. Angelo Re
Guitar/  Paul Coleman
Guitar/  Matthew Douglas
Bass/  Andrew Purchia
Drums/  Marc Charette
As Darkness Dies is a continually evolving musical force, and will continue to perform and record for the foreseeable future. However, we are saying goodbye to three amazing individuals, who have parted ways with the band to pursue other interests in professional and personal directions. We would like to wish Martin, Scott & Harry all the best in their lives, we could not have done this without you. Thank you!! (Complete Band History Here!)
Originally formed in 2011 by Paul Coleman (guitar), A.D.D.'s  current line-up came to fruition in the spring of 2016.  After three of the legacy members departed, three new artists joined forces with Paul and Andy (bass) to pick up where the magic left off…
Moving forward for 2016 and beyond, please welcome J. Angelo Re, Matthew Douglas & Marc Charette. Welcome to the As Darkness Dies family, we are really looking forward to what's in store for this band, we have a feeling it's going to be huge!
J. Angelo Re
So there's this music thing, that, if it's truly part of you, kind of takes on a life of its own. It doesn't really matter what kind of music, I mean, as long as it speaks to you, or you can use it to speak to others, it's beautiful; rock, metal, punk, folk, jazz, blues, etc., it just makes no difference if you can really feel it.
Hard rock, metal, the heavy sh*t, that's what has always spoken to me, and that's not to say I don't love many other genres, it's just that, as a performer, this was the one that put the gas in the tank, the high-test racing fuel that creates some blistering melodies that some folks won't, or can't, ever understand. But that's ok, because maybe it's not for them… but it will always be for me, and maybe you too.
I am privileged to be able to do this, to share this, and at every show, whether it's 5 or 5000 people, it's the same heart, soul, & voice.
All this is for you to hopefully enjoy, but it is for me to live, and I have lived and breathed it for a long time now, and I think it's only just the beginning….
the Heavy Metal is in my soul, and it's time to rock, it is time to roll!! .\,,/
Gear: Heart, lungs & vocal chords… and any mic available! Most notable music contribution in recent years, One Part Human.
Follow: Fandalism | Facebook | Twitter | Instagram
Paul Coleman
Born Januray 11, 1971 and started playing guitar at the age of 9.  Never taking a real lesson, he taught himself by listening to early idols, Jimmy Page and Tony Iommi.  Blues rock is the heart of everything he does.  Today his biggest influences are Randy Rhoads, Zakk Wylde and Slash.  Described in a brief phrase, Paul is the "straight forward, no bullshit" type.
Paul plays Gibson guitars with EVH heads, Marshal cabs, Seymour Duncan pickups, TC electonic pedals.
Matthew Douglas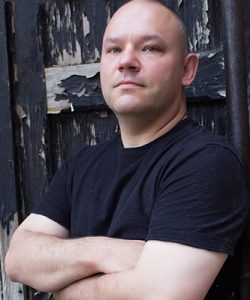 The road has been long, with many detours… but like most journeys, somehow you end up right where you belong.
For Matt, that journey brought him home to ADD, a band that feels to him like the direct descendant of his first band in style, and attitude.
"Musically, our direction fits perfectly with my writing style, and everyone is all about what makes the song better. There are no egos, and everyone's input is valued and respected… easily the best creative situation I've been in since I was 19 years old. It's about good songs and hooks more than anything. I've never really had a guitar hero. For the most part, I don't give a crap who's playing the guitar, it's always been more about melody, where the song goes, and what the playing adds to the song."
If pressed for influences, or favorite bands Matt would name bands like Iron Maiden, Deep Purple, Fates Warning, Queensryche, Asia, Theocracy, and countless others. As far as guitarists it's all of the above, plus some surprises like Frank Zappa, and Stevie Ray Vaughan. In fact, his current playlist runs from Andrea Bocelli to Sepultura.
"My biggest influences are people I've played with in the past… people that you've never heard of… these guys have shaped my playing far more than any famous players have. For now, I'm  just looking forward to the next chapter, writing some songs and seeing where this all ends up!"
Matt plays ESP and Gibson Guitars through Hughes and Kettner amplification.
Follow: Facebook
Andy Purchia
Prior to As Darkness Dies, Andy played guitar and bass with various acts in the studio, for live shows and and on tour.  His main influences include Geezer Butler, Steve Harris , John Entwhistle and Geddy Lee.
Past Projects Include:  Evil Angel, Junkyard, Wrecking Crew, Four Horsemen, Wretched Whore and White Widow.
Gear:  Fender Jazz basses and amplification. Rotosound bass strings.
Follow: Facebook
Marc Charette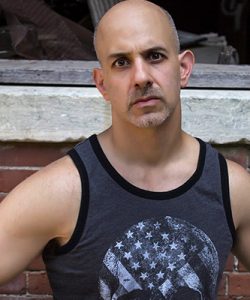 Drums started calling to me at an early age.  It all started in middle school marching band, and I am still playing to this day.
I come from a musical family, and music has always been in me.  I have been playing the drums for over 20 yrs, and met some amazing people,  and had some amazing experiences along the way.  Music will always be a part of me.  Influences range from Rock, to Funk, to Metal.
Favorite drummers: John Bonham, Stewart Copeland, Steve Smith.
Endorsements: Soultone Cymbals, Rich Sticks, Gms Drums
Previous bands: Civil Drone, In the Red, Vanishing Point
Click below for: